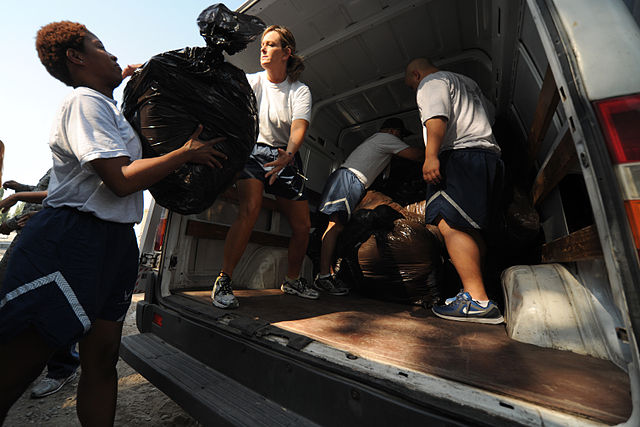 If you live in the Pacific Northwest (PNW) you know how crazy this area can be about recycling, donations, and trying to coexist with the environment. They're all great things! So, we've taken a moment to highlight five of the best donation centers in the PNW.
There are many ways to donate to Habitat for Humanity. Goods is just one way. But goods they need. Habitat has been committed to providing decent housing around the world – which includes our country. All money that is raised by your donated goods helps families build a place to call their own and the strength they need to build a better future.
You may have seen their blue trucks around – they are easily accessible in Washington State making donating easy. Northwest Center is one of the leading organizations working to provide equal opportunities for children and adults with developmental disabilities. They provide early intervention, learning, and after school programs for kids. For adults, they provide School-To-Work services, vocational training and job placement, as well as supported employment. Companies of all sorts including Fortune 500, government, and federal agencies have all hired from Northwest Center recipients.
While the regional office is in Milwaukee, OR TC Resale & Donation centers are located throughout Oregon and even into Washington and Montana. This effective program is a part of the 'recovery service provided to men and women who struggle with life-controlling problems.' By shopping and donating at these stores, you are helping these (often times) young people move forward and keeping 350 beds open at the Pacific Northwest Adult & Teen Challenge.
Based in Boise Idaho, the Idaho Youth Ranch specializes in working with kids who are runaways, homeless, suffer from substance abuse, have serious behavioral issues, or are victims of abuse and/or neglect. They provide a safe and stable environment with appropriate services for the condition for kids ages 9-18. In addition to the above link, you can find out more here: Idaho Youth Ranch Adoptions
Goodwill, various locations – Nationwide
Almost everyone is familiar with Goodwill. But, if you aren't, Goodwill's goal is to help individuals and families of all creeds and walks of life reach their full potential through job training, skill development, work integrity, and education. The money raised through a Goodwill store goes straight to supporting these programs.
This Portland, Oregon nonprofit is tackling homelessness. They assist more than 10,000 people each year providing 'services, resources and tools they need to end their homelessness, secure housing, and maintain [it].' They don't just provide service during the day – more than 800 people turn to Transition Projects for a safe place to sleep. With winter just a few short months away, beds will be in high demand!
Alright, so there's six. But they were all just too good not to include! Knowing you are donating your gently used items to help people who genuinely need it – there's no better feeling. These donation centers are legitimate programs that work hard to give people in our community a hand up – not a handout.
Go Trashy is passionate about recycling, upcycling, and donating. If you would like your donation pick up to go to any one specific donation center, simply let us know via the app (iPhone, Android) or in person, and we'll be happy to deliver it.
Thank you in advance for your generosity!