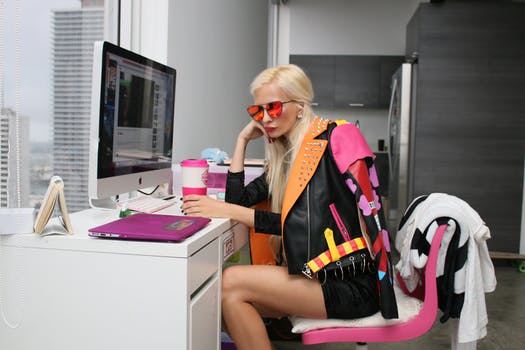 Win at working from home or working for yourself with a few Dos and Don'ts
There is, of course, the age old retail and real estate adage, "Location, location location." Some things endure for so long because they ring true across a wide array of our life experiences. This adage is one of them.
It also applies to entrepreneurial and work-from-home success. Congratulations, by the way. Whether you are starting your own business or pursuing a freelance career, you have a rewarding, challenging future ahead of you.
Working from a home office has its Pros and Cons. I'm sure you have considered many of them. There are a few things that have proven true through trial and error. Chief among those is the simple truth that you need your own space, away from the movements of everyday life.
It's tempting to stay in pajamas and work from the couch, interrupted only when Netflix asks if you're still watching. You click continue, and in this dream of yours, you spin out endless amounts of incredible work while wearing a posterior outline into the couch cushion. Let us save you some time:
If you want to be productive and effective, you have to create a productive and effective atmosphere. It starts with an office space.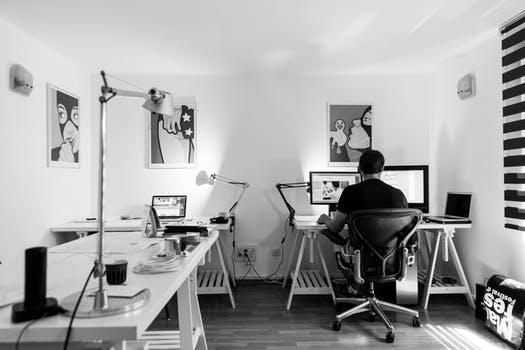 The Dos
You do want to
Start with your finances separate. In order to properly maintain your family and work/office budgets, you need to know what portion of your resources is going to things like heating, cooling, and lighting the office space. If your business is filed a certain way, or if you do not have an office provided by an employer, there is a good chance you'll need this info when it comes time to file taxes.
Not only is a portion of your internet use, utilities, and rent potentially deductible, you will also have deductible depreciation on equipment. But only if that equipment is used solely for work purposes. Sorry, you're not writing-off that iPhone payment if you also chat with Mom from time to time.
Let a pro help you make the right moves come tax time. For now, consider a separate bank account or credit card, and keep a separate office/work balance sheet to track your equipment, space, expenses, and business income.
You do want to
Designate a clean and separate space. Again, for tax reasons, you might need a door that closes you off from the rest of the house. Check your state laws.
State and federal taxes aside, in order to focus and create a productive workflow, you need to remove yourself from temptations and distractions. You might be able to maintain a solid output while Pandora plays quietly in the background. You might be able to maintain professionalism while laying back on the couch in your pajamas as you answer emails. You might even be able to create great new stuff with Netflix streaming in front of you. But you cannot do all three.
Reduce the number and nature of distractions. They all work against you in small ways, and if you try to tackle your work while three or four other things are vying for your attention, your work will suffer. You don't want to lose this opportunity for freedom and independence, do you?
You do want to
Avoid the temptation to float from one quiet room to another. Even though you are not distracted, you cannot optimize the work efficiency of your entire house. At some point, you will need something you wrote down on a sheet of scrap paper. Only you can't remember where you left the paper. Then, after wasting time finding it, you'll realize your laptop is about dead. Where is the charger?
Keep your things together and build small systems that help you in myriad little ways throughout the day.
Keep your space clean. Distractions and stresses rise as the clutter or dirt pile up. File things when you're done with them. Keep everything in the place where it belongs so you'll know where to find it later. The same goes for your computer. Organize and file everything throughout the day, and you won't have an unnavigable junk pile to sift through.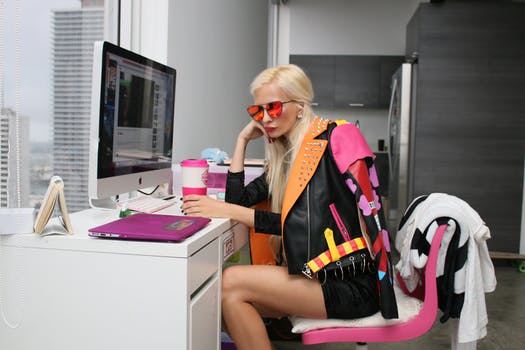 And the Don'ts
You don't want to
Put a TV in your office. Really. I have one, and I wish I didn't. Use a radio, and consider listening to songs without lyrics. When you need chatter, step outside to the local coffee shop or sandwich place.
You don't want to
Wear your work-from-home attire out in public. We have all spotted the home-based software engineer at the bar at six o'clock with mismatched socks and an unwashed flannel. Remember, the rest of the working world is still, at least, business casual.
You don't want to
Lose control. Independence is freeing. But that comes with responsibility. Clean up your dirty dishes. Keep your printer and computer in working order. In general, act as though you share an office. Respect your own space as though a stranger might walk in.
Go Trashy is on-demand junk removal
You snap a pic of the stuff you want gone
You get upfront prices from background-checked Providers
You select your Hauler and your stuff is gone within hours