How to Make a Mountain Out of a Molehill
In March we packed up a large Enterprise rental van with the last of our belongings and made the sixty mile move to Portland, Oregon to take advantage of new opportunities for the family. In the days leading up to the move, I made four trips to the local dump, hauling everything from cardboard diaper boxes to old AC units. Trash removal became part time job. Though I am sure it's a great gig, I had never envision a career in junk hauling. I majored in English and creative writing. Lifting, logistics, and hauling are not my strengths.
The van hummed along the highway. My son and wife drove on ahead as I fought the Columbia River Gorge headwind in the tall Euro-style van. The only noise from the otherwise secure belongings was the metallic rattle of our old futon. The mattress had to be carried separately, leaving nothing to dull the sound. When we arrived, I asked if we could put the ugly, frumpy futon in the garage until we made yet another trip to the dump. My wife wisely declined. "Where would we sit until the new couch arrives?"
We worked the monstrosity through the front door and immediately killed the vibe of our new, clean, updated home. Our place was fully redone with modern amenities that barely hint at the fact that the home was built in 1892. The modern-yet-worn futon was a nightmare in the new living room.
My wife wisely ordered a couch that night. A small sectional with enough room for our little family to gather in front of a movie. I insisted on the chaise lounge end and a new lamp that would be perfect for reading. I was dreaming of getting back to my life as a writer and hanging up my junk removal boots.
It took six weeks and then some for the new couch to arrive. In that time we hosted friends and family. We greeted our neighbors. We made new friends. All were invited to tour our new home. We would be so proud and then we would arrive in the living room with that darn grey futon starting back at us and the majesty was lost.
But it did arrive. And now we show off our house without shame or regret. It seems a little dramatic, I know, but imagine if you just purchased a painting for your wall and then when you hung it you noticed a corner was sunworn and moldy. Would you be as proud to show it off as you had been just moments before?
Here is Where You Want to Pay Attention
Don't make the same mistake I made. As the new couch arrived on a hot summer evening, I stripped the mattress from the futon and carried it to the driveway. A minute later I came out with the frame of the futon. If we lived on a college campus, that might have been the end of the story. I remember furniture hunting during move-out weekend by driving around looking at what the upperclassmen had tossed to the curb. That's where we got the folding chairs and the beat-up card table we used as a dining set.
No one came for the old thing, as I had temporarily fantasized. On the second day, my wife asked what the plan was for the old couch.
"It's a futon," I said. "You're avoiding the question," she answered.
I had heard of a local junk removal service. I saw a truck with a phone number on a long run I took around our new neighborhood. I looked it up and gave them a call on a Saturday morning. No answer. I wrote them an email after leaving a voicemail and I figured that we would take care of it Monday. There was no way I was going back to performing my own junk hauling.
Well, they didn't call Monday. And they didn't answer when I called again later in the day. They never responded to the first email or the one I sent Tuesday morning. So, by Tuesday afternoon, the only respectable thing to do was to put the thing in our two car garage, where it sat for six more weeks.
I couldn't pull in my car and I didn't bother to show the garage to our friends and family as they toured the house. I also did not want to do the math on how much we paid per square foot and how much footage that stupid thing took up. It would have broken my heart.
Use a Junk Removal App, Duh
I should have known that in this technology driven era someone had solved the persistent problem. The answer is easy, friends. Go Trashy lets you photograph your junk, then they send you an upfront price. In just seconds on a Tuesday morning while I sat on my new couch and read, a vetted hauler came and removed the futon.
I felt silly. It was so easy and I waited way to long. I let that little thing smudge-up the view of the house for most of my family. Don't make the same mistake. It can be so easy to declutter, organize, and rid your family of the worn furniture eyesores that end up in the basement or the garage.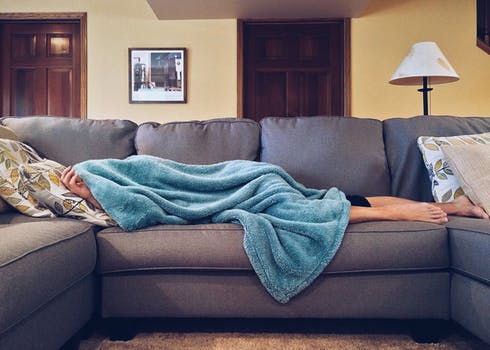 Go Trashy is on-demand junk removal
You snap a pic of the stuff you want gone
You get upfront prices from background-checked Providers
You select your Hauler and your stuff is gone within hours